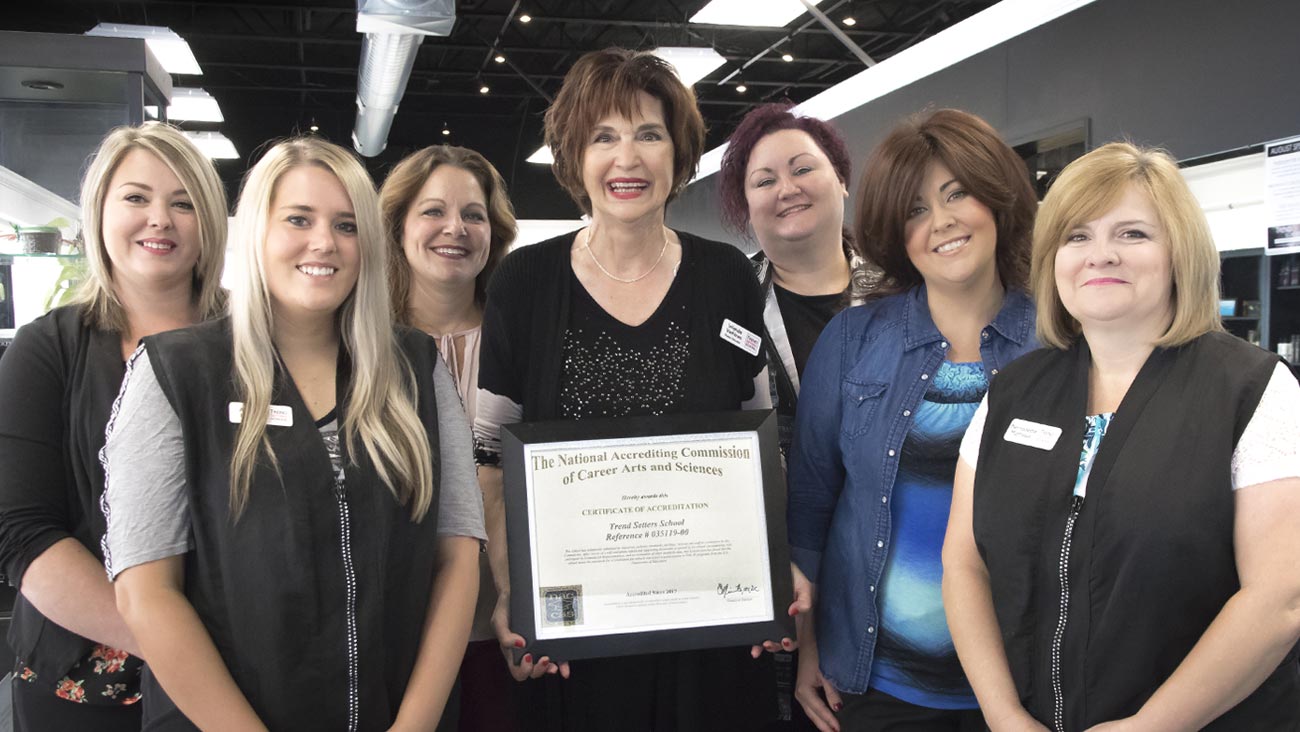 Trend Setters School has been awarded a three-year grant of accreditation by the National Accrediting Commission of Career Arts & Sciences (NACCAS), a leading nationwide accrediting agency for proprietary cosmetology and barber schools. This is the maximum time period granted by NACCAS for an initially accredited school.
Trend Setters School is now the only accredited cosmetology or barbering school in the Cape Girardeau area. In fact, Trend Setters offers the only NACCAS-accredited cosmetology or barbering programs in all of Southeast Missouri, from St. Louis to the Arkansas border.
The announcement follows a rigorous two-year accreditation process that required the school to submit financial auditing, comprehensive program assessments, and verification that Trend Setters exceeds national benchmarks for student graduation, job placement, and professional licensure rates. The process culminated in an extensive on-site inspection from NACCAS staff in March 2017, for which the school received a rare perfect-score evaluation of "no limitations."
"We're thrilled to receive this grant of accreditation from NACCAS," said Master Educator Wanda Verhines. "Accreditation assures our students that they're spending their time and money on a quality school."
Since 2001, Trend Setters' flagship 1500-hour cosmetology program has trained hundreds of local graduates to become successful beauty industry professionals. Trend Setters' cosmetology graduates have achieved a 100% passing rate at Missouri's state licensure examinations nearly every year of the program's 15-year existence.
In January 2017, Trend Setters received NACCAS approval to add a 1000-hour barber program for new students training to enter the rapidly growing barbering industry. Approval was also granted for a 45-hour barber crossover course on the art of razor use, intended for licensed beauty industry professionals. Both programs have begun enrolling students.
Under new administration since 2015, Trend Setters recently made waves in the local salon community by introducing $2 haircuts for all customers. The policy has increased customer traffic dramatically to give students much needed hands-on experience with haircuts, the most common requested service for a professional hairstylist. The administration has also signed off on over $100,000 in facility renovations over the previous two years, adding further value to the student experience.
Founded in Sikeston in 2001 as Trend Setters School of Cosmetology, Trend Setters School has operated its Cape Girardeau campus at 835 South Kingshighway since 2003. Trend Setters was previously accredited by NACCAS from 2007 to 2015.
Contact:
Nick Ryan, School Administrator
p. (573) 339-1002
[email protected]