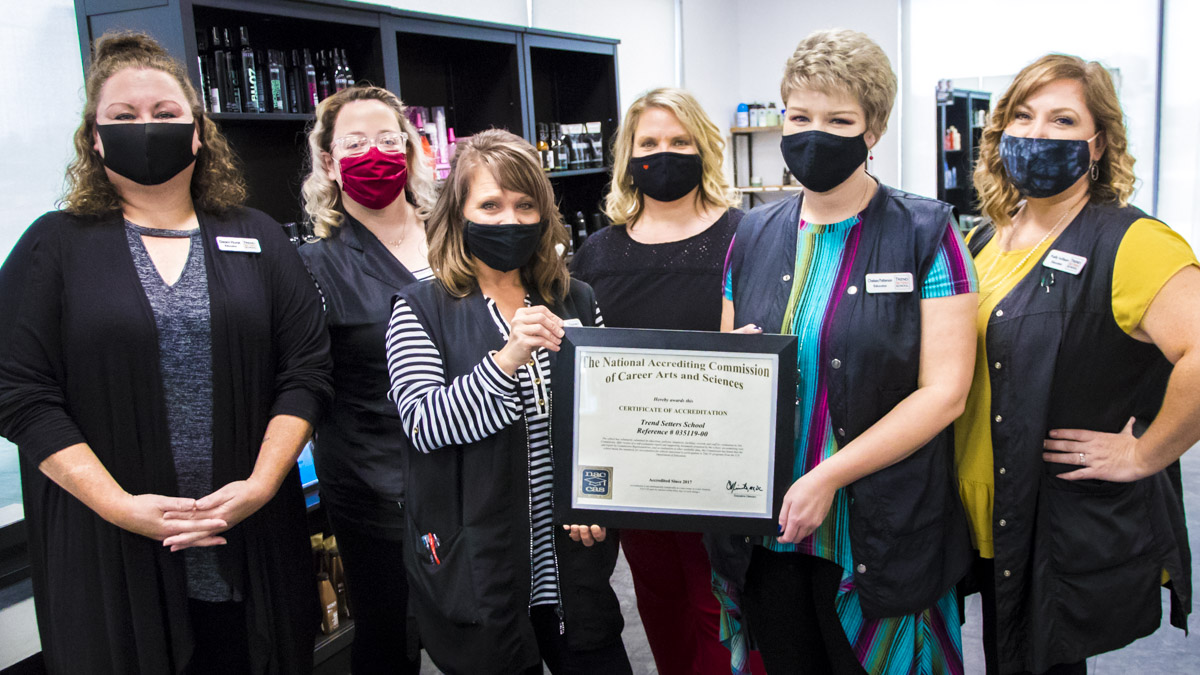 Trend Setters School has been awarded a six-year grant of accreditation by the National Accrediting Commission of Career Arts and Sciences (NACCAS), a leading nationwide accrediting agency for proprietary cosmetology and barber schools. This is the maximum time period granted by NACCAS for a previously accredited school.
Initially accredited in 2017, Trend Setters undertook a rigorous accreditation renewal process that required the school to submit financial auditing, program assessments, and verification that Trend Setters exceeds national benchmarks for student graduation, job placement, and professional licensure rates. The process culminated in an extensive on-site inspection from NACCAS staff in February 2020, for which the school received a rare perfect-score evaluation of "no limitations" for the second consecutive time (Trend Setters received a similar "perfect score" following its previous evaluation in 2017).
"We are grateful to NACCAS for recognizing the hard work our staff has put into Trend Setters with this six-year grant of accreditation," said school owner Nick Ryan. "We see this not only as a badge of honor for all of us, but as reassurance for our students that they've invested their time and money into a high-quality program."
Trend Setters School is proud to be the only NACCAS-accredited cosmetology and barber school in Southeast Missouri. The school currently offers a comprehensive 1500-hour program for aspiring Cosmetologists and a 1000-hour program for Barbers. In addition, Trend Setters offers a 45-hour "Crossover" program for licensed Cosmetologists who wish to add barber skills to their professional toolkit.
Recently, Trend Setters School has adapted to the COVID-19 pandemic by incorporating new CDC recommendations on masks and social distancing, enforcing sanitation best practices throughout the school day, and modifying the campus to mitigate any potential virus transmission. New cosmetology and barber classes begin every two months. Financial aid is available to those who qualify. Prospective students are encouraged to apply early as classroom space is limited.